2020 AMA Crystal Award Winner for NYC Luxury Retailer Ad Campaign
Optidge has received another accolade from our industry peers. This time, we're pleased to announce we've won an 2020 AMA Crystal Award for our work with luxury New York retailer Degs & Sal, and were finalists for our SEO work with Rollac. The awards were presented at a virtual event Wednesday, June 24th. Featuring 287 entries, in over 80 different categories, ranging from advertising, marketing, communications, and design to public relations.
Our campaign won for "Best Plan B", a category that looked at situations where although a great idea/plan didn't pan out, the marketers were able to pivot and show a huge success. The results of our Facebook and Instagram Advertising work resulted in Degs & Sal experiencing nearly a fourfold increase in company growth in YoY (year over year), a 278% increase in company orders, and a 130% on ROAS (return on advertising spend).
The panel of judges who bring to the table a wide range of experience as CMOs, business owners, authors, and some of the country's top marketing leaders are certainly a formidable group. Their job is to rate a project's objective strategy, approach, and then finally its numbers.
For Optidge's Joseph Wolf who spearheaded this campaign achieving those numbers was no easy task. The most difficult part was having to change strategies after the initial few months to a more complex strategy that required a lot more day to day optimization.
"After that first change proved successful the most difficult part was reacting to the fluctuations in the performance of the target audiences and creative which meant having to consistently adjust budgets and launch new targeting when winning audiences started to diminish."
Once that was done, their business began to grow and their revenue began to increase. Congratulations to Joseph and the entire Optidge team on their AMA Crystal Award.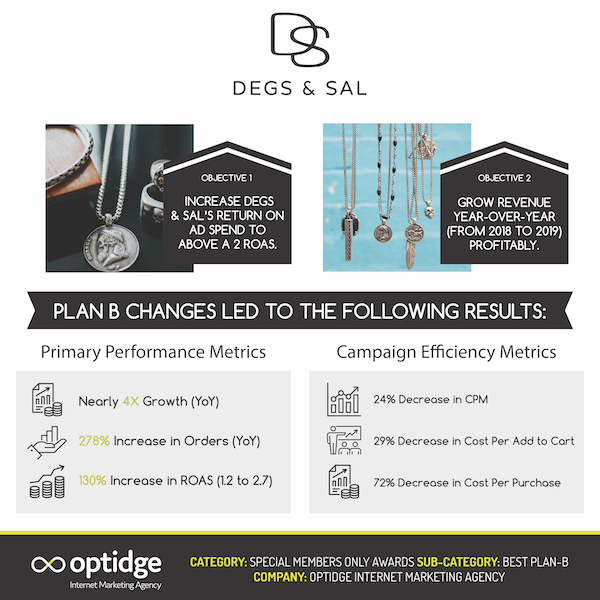 Contact Us