2021 AMA Crystal Award Winner for Medical ID Jewelry Retailer Ad Campaign
Click here to check out the complete Case Study
Optidge has received another accolade from our industry peers. This time, we're pleased to announce we've won a 2021 AMA Crystal Award for our work with medical ID jewelry retailer American Medical ID, and were finalists for our SEO and Website work with Nick's Plumbing. The awards were presented at an in-person and virtual event Wednesday, May 19th. Featuring 267 entries from 70 companies, in over 10 categories, ranging from advertising, marketing, communications, and design to public relations.
Our campaign won for Best "Paid Social Media: Campaign (two or more ads)". The results of our Facebook and Instagram Advertising work resulted in American Medical ID beating our ROAS Goal by 374% for an 11.2x ROAS, as well as, 74% increase in monthly revenue and 3.5x growth in total revenue.
The panel of judges who bring to the table a wide range of experience as CMOs, business owners, authors, and some of the country's top marketing leaders are certainly a formidable group. Their job is to rate a project's objective strategy, approach, and then finally its numbers.
"After that first change proved successful the most difficult part was reacting to the fluctuations in the performance of the target audiences and creative which meant having to consistently adjust budgets and launch new targeting when winning audiences started to diminish."
Special congratulations to Joseph Wolf, Brianna VanSoest, and the entire Optidge team on their AMA Crystal Award and Finalist selections.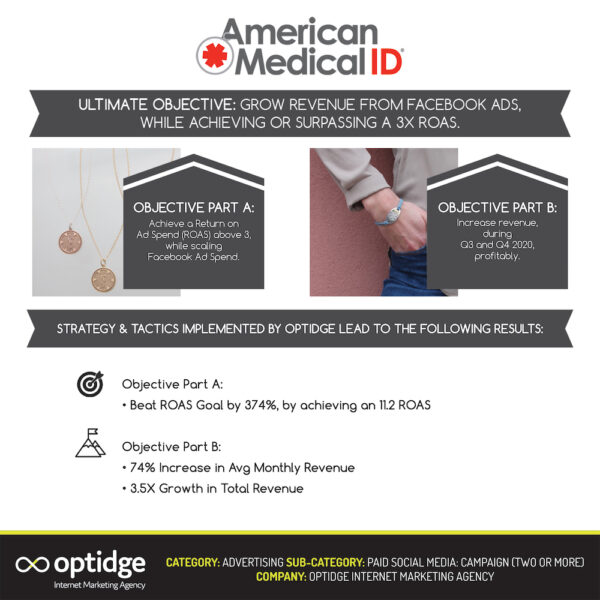 Contact Us