Podcast: How to Level Up in Client Management  | Inbound Back Office Podcast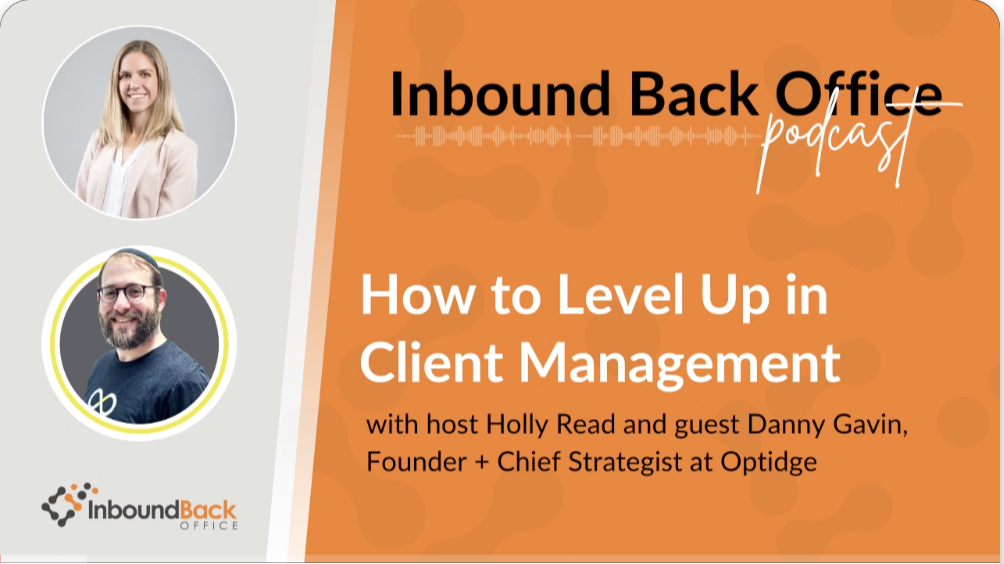 Danny Gavin Sheds Light on Client Management within Digital Marketing Agencies
Our very own Danny Gavin, CEO of Optidge, was recently a guest on the IBO Podcast, sharing invaluable insights on mastering the art of client management. If you missed the episode or just need a recap, we've got you covered with the key highlights!
Episode Highlights:
Setting Client Expectations Right (1:44)

Danny emphasized the importance of laying down clear expectations from the get-go. This not only sets the course for the project but also fosters trust between both parties.

The Art of Maintaining Expectations Weekly (4:29)

Consistency is key. Danny shared strategies on ensuring regular check-ins to realign and confirm expectations, guaranteeing that no side feels left in the dark.

Transparently Conveying Your Work Results (7:21)

Danny believes in the power of results. He touched upon the significance of showing clients the tangible outcomes, backing up the value proposition with solid data and consistent communication.

Extracting Constructive Feedback from Clients (10:21)

An integral part of our ethos at Optidge, Danny shared tips on how to foster an environment where clients feel comfortable sharing genuine feedback. This helps in refining processes and delivering even better results.

The Debate: Investing in an Account Manager (15:41)

A topic that's always up for discussion, Danny weighed in on the benefits and potential drawbacks of having a dedicated account manager in the team.

Strategies for Effective Onboarding and Cross-Selling (19:47)

First impressions count. Danny delved into the importance of a seamless onboarding process and shared strategies for tactful cross-selling.
A Word from Optidge:
We're always proud to see Danny sharing the expertise and values that have made Optidge a trusted name in our industry. This podcast was no exception, with Danny offering both practical advice and real-world experiences.
At the end of the day, impeccable client management isn't just about client satisfaction. It's about building enduring relationships anchored in trust, clarity, and shared objectives.
For further inquiries or to dive into how Optidge manages our client/agency relationships feel free to reach out.
Contact Us