SEO Analysis of Lemonade.com: Renters vs. Home Insurance
Recently, I was approached by a group of students from the Masters in Marketing program at Bauer College of the University of Houston to see if I could help them with some difficulties they were having with a school project. They presented the following challenge:
For one of our classes, we are creating a marketing plan for Lemonade Insurance. After doing extensive research into their SEO practices, we cannot figure out why they are ranking for the high intent keywords like, "Renters Insurance" and not for "Homeowners Insurance." Part of our goal is to increase their market share in the Homeowners Insurance market, so we want to suggest ways to improve their page rank for homeowner insurance-related keywords but can't seem to figure out what they're doing wrong… if that makes sense.

Google Ads serves their ads for "Homeowners Insurance" top of page, and according to their Facebook Ads Library, they have a good number of ads running on IG and FB related to homeowner's insurance.

Any advice/ things we may be missing that you can think of would be greatly appreciated!!
I did a deep dive into the data and here's what I uncovered:
1) Difficult or what!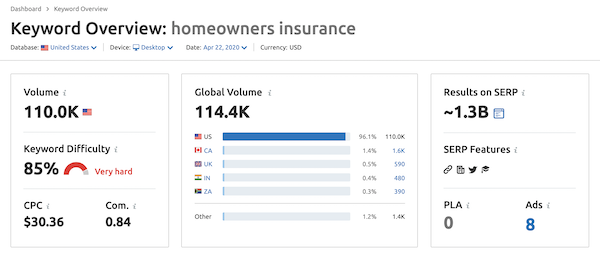 It's important to preface that when it comes to the world of "Insurance" and SEO, one has to deal with some serious competition to land a spot on the first page of one of Google's SERPs.
2) Perhaps Lemonade is focusing more on renter's insurance?
From Google Trends, it appears over the past five years "renters' insurance" is searched slightly more often than "homeowners' insurance," as seen in the graph below (and in the past 12 months, the difference is more significant). This searcher-preference could be one of the reasons Lemonade focuses on renter's insurance more than homeowners' insurance.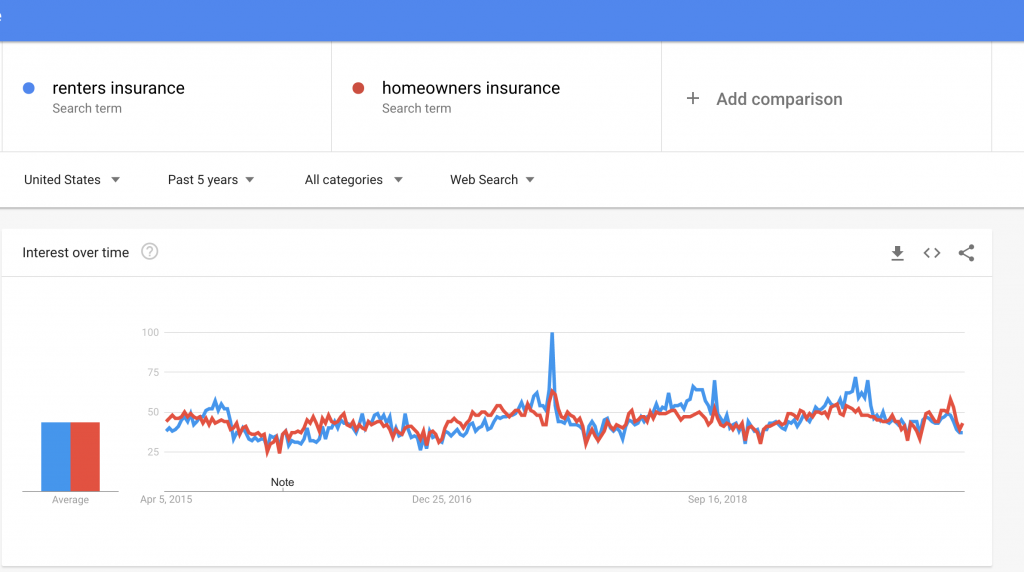 However, when looking at their top organic landing pages, they have more content with "home" or "homeowners" in the URL than content about "rent" or "renters."
2) The proof is partially in the anchor text.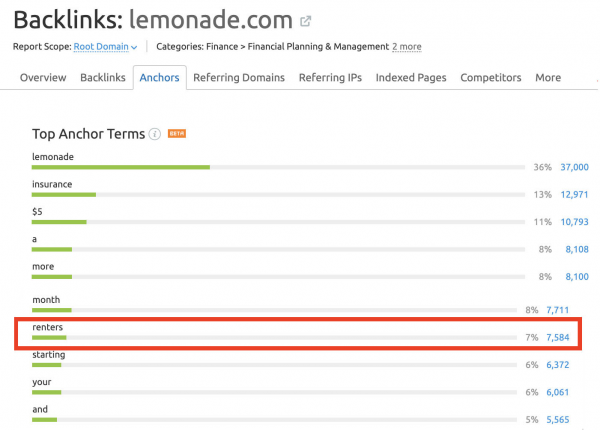 According to SEMRush, Lemonade has twice the inbound backlinks with the term "renters" versus links with the anchor text including "homeowners." A note, Google can penalize your site for having an unhealthy or unnatural link portfolio. To Google, that can present at the majority of the anchor text of links pointing to your site containing "exact match" keywords. However, having many partial and some exact match keywords in the anchor text of your links still helps signal to Google as to how to rank a site in the SERPs. In order for Lemonade to rank more for "homeowners" related terms, it appears they would need to increasingly promote their homeowner's insurance offering to gain more outside signals and links from related content. This could be accomplished with guest blog posts and or content on outside websites with links back to its website.
3) Does Offline Marketing Affect Online Marketing?
I first learned during a keynote by Rand Fishkin at the State of Search convention in Dallas (that was back in 2015… as you can see it made an impression) that in some scenarios, Google's non-branded SERPs can often be influenced by the volume of branded searches made on a specific topic. According to a recent article by S&P Global, State Farm, Progressive, and Geico (among others) spend over $1 billion dollars in advertising a year, which surely includes a heavy amount in TV and Radio.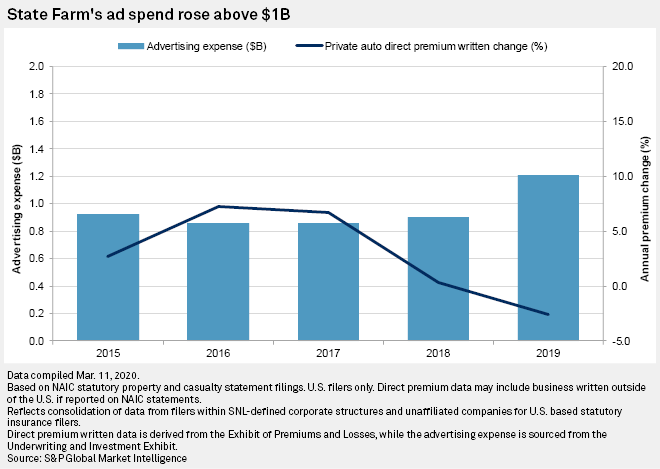 All that offline advertising is definitely sending people to Google to search for keywords like "State Farm Home Insurance." So, it's no surprise when you look at the top results for homeowners' insurance, it's either household names that do heavy advertising, comparison sites, or educational sites. On the other hand, when it comes to "renters insurance" keywords, one doesn't really see or hear commercials for this product; thereby we assume the results for this family of terms are more based on which site has better SEO, thereby leveling the playing field a bit and allowing a player like Lemonade to join the "1st page of Google" club.
Conclusion
For Lemonade.com to rank organically on the first page of Google for "homeowners' insurance" related terms, it is going to take a lot of time and money to better promote its homeowner's insurance offering both offline and online (using paid and organic strategies).
Contact Us